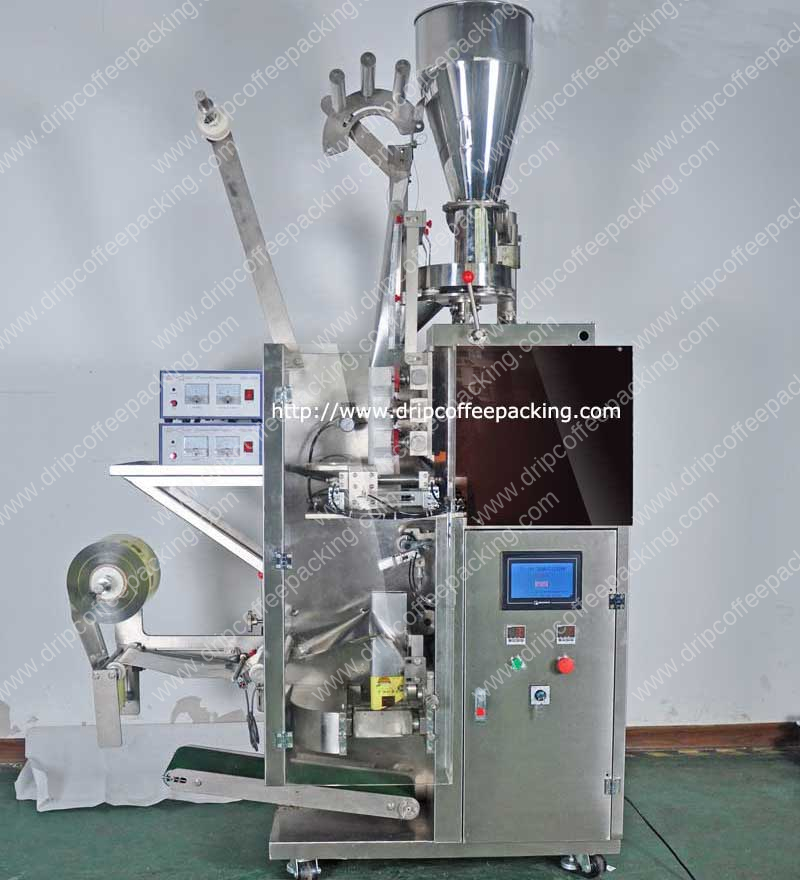 Drip Coffee Bag Packing Machine with Outer Envelope is suitable for various products inner and outer bag packaging, such as leafy tea, herbal tea, health care tea, coffee, root and other granular products. This drip coffee bag packing machine has the function of nitrogen injection, which make the coffee powder in drip coffee bag keep fresh for longer time.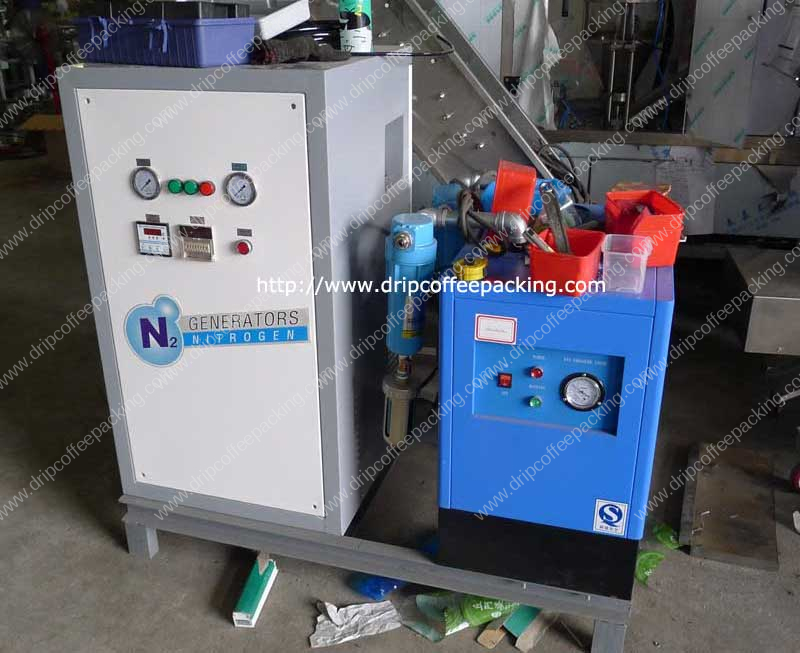 Final Drip Coffee Bag Products
How to Use Drip Coffee Bag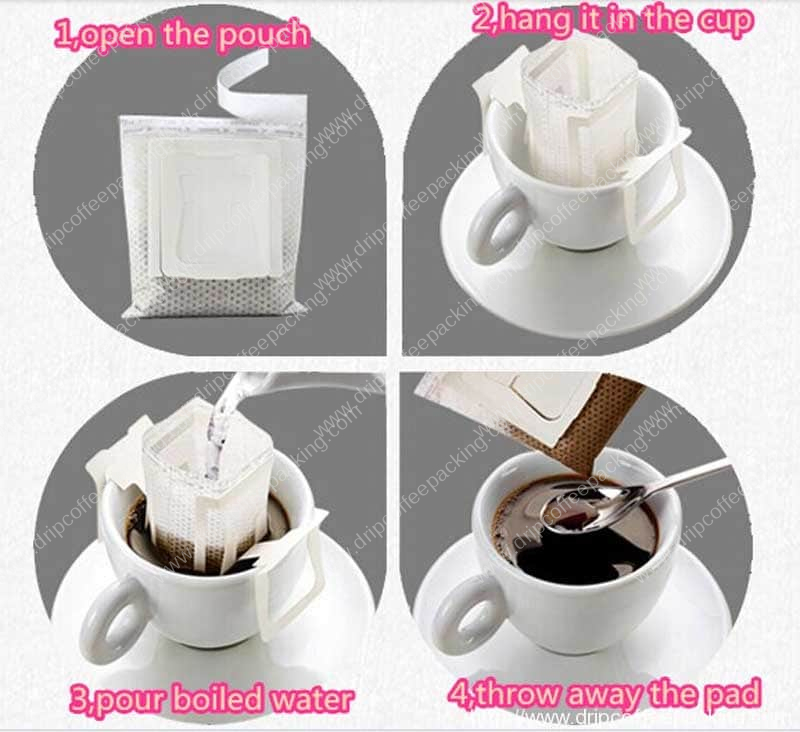 Main Function of Drip Coffee Bag Packing Machine
Adopt particular hangers type filter, the trilateral sealing, direct hangs on the edge of the cup, coffee brewing effect is better, and beautiful bag type, at present the market is very popular abroad.
The machine can automatically finish bag making, measuring, filling, sealing, cutting, counting, printing batch number, etc.
Using sophisticated control system adjust the action of the whole machine, compact structure, and the man-machine interface design, convenient operation, easy to adjust, easy to maintain.
Inside the bag bag length adopts servo motor drive, accurate positioning, bag length stability.Outer bag adopts photoelectric switch orientation, stepping membrane, bag length accurately and beautiful.
Bubble bag for the non-woven bag hanging ears, convenient and health.Sealing adopts advanced ultrasonic sealing, the sealing effect is good, beautiful pocket.
Features of Drip Coffee Bag Packing Machine

The main part of the machine is made of SUS304 stainless steel.
High efficiency. Packing speed: 30~60bags/min.
User-friendly, stable, durable and easy maintain.
Outer bag sealing is controlled by the stepper motor, ensuring accurate and stable bag length positioning.
Adopts PLC control system, machine is very easy to operate.
Adopts PID temperature controller for more accurate temperature adjustment.
The main machine parts is made of SUS304 stainless steel, so it ensures hygiene products output.
Some cylinders are imported, ensuring the accuracy and stability of the machines' performance.
It can make the inner and outer bag at the same time automatically, which  highly improve the working efficiency.
Options: Date code printer.
Specification of Drip Coffee Bag Packing Machine

Model
RM-DCP
Product name
Automatic Drip Coffee Bag Packing Machine with Outer Envelop
Bag type
3 side sealing
Packing material
Paper/Plastic, Plastic/Aluminum/Plastic, Paper/Aluminum/Plastic, Filter paper
Feeding system
Volumetric cup filler
Package range
1-15g
Accuracy
+-0.2g/bag
Inner bag size
L:50-75mm , W:50-90mm
Outer bag size
L:85-120mm , W:75-100mm
Inner bag film width (180mm)
Bag size: L90*W75mm
Outer bag film width

(200mm)

Bag size: L120*W100mm
Power supply
Single phase, 220V, 50HZ, 3.7KW
Packing speed
30-60bags/min
Weight
400KG
Dimension (L*W*H)
1200*900*1900mm
Working Video of Drip Coffee Bag Packing Machine
Company Profile
Romiter Machinery Co., Ltd. is a market leading designer and a manufacturer of coffee powder packing and tea powder packing machine. All our machines equip with reliable brand component. This enables us to provide our customers with continuous high quality tea powder and coffee powder equipment at competitive prices.
Romiter provides a complete coffee powder and tea powder packaging solution, includes Drip Coffee Bag Packing Machine, Instant Coffee Stick Packing Machine, English Breakfast Tea Capsules Filling Sealing Machine, Full Automatic Tea Capsules Packing Machine, Pyramid Tea Bag Packing Machine, Four Header Pyramid Tea Bag Packing Machine, Round Tea Pods Packing Machine, Tea Inter Bag and Outer Bag Packing Machine and Coffee Capsules Filling Sealing Machine.